Overview
"It's a 'Win-Win' situation!" That must be one of the most overused phrases in organizations today (and many would say the clear winner when it comes to "managementisms"!). Whether we are talking about the private or the public sectors, if anything can be framed as a "Win-Win" for all parties involved, well then, it must be good, right?
Quite often however, the nature – and substance – of the "win" in a given situation is a matter of perspective, depending which side of the equation you find yourself on. Yet, the Win-Win scenario is really not a matter for just two parties in almost any given situation – particularly when it comes to the public sector. And when you take all stakeholders into account, the complexity of figuring out who wins, who loses, and who well, you know… often depends on a multitude of factors – and just who it is that is viewing them.
However, every once and awhile (and yes, some would argue that this is "once in a blue moon"), a government initiative does manage to take all parties interests into account and craft a winning solution for everyone involved in a given circumstance, no matter what stakeholder you might be and what your perspective on the situation.
So, a tip of the hat has to be given to the State of Arizona. There, the state legislature agreed with a request made by Governor Doug Ducey to include a supplemental $1.5 million in Arizona's 2018 budget. Now, this admittedly is but a small fraction of the state's approximately $10 billion annual budget and just part of an overall $200 million increase in state spending in the coming year. However, this small investment is likely to pay big dividends for many years to come in what is a perfect example of a "win-win" for all Arizonans!  
So, why is this line-item so important? The answer is quite simple: The money will fight wildfires and create new career opportunities for some of the hardest to employ – but most vital folks in all of Arizona. These are the ex-prisoners who have been trained to fight – and actually gained a great deal of experience – fighting wildfires while serving their time in the Arizona Department of Corrections.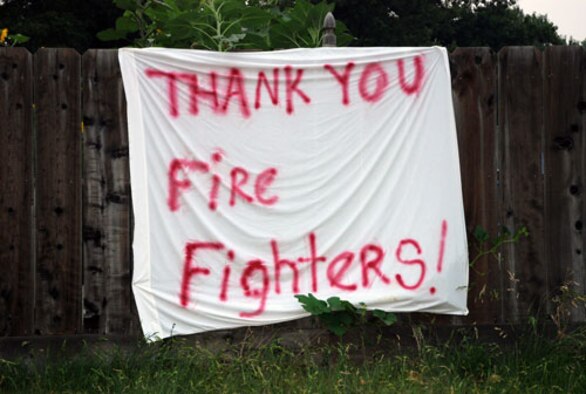 The Wildfire Problem and the Inmate Solution
As those in the Western U.S. know all too well, it's peak fire season. And for the rest of the country, while wildfires often are the third or fourth story on the national news and are spoken of only after the latest Trump "firestorm," the firestorms that face tens of millions across the West are all too real and threatening during the heat of the Summer months. And it's not your imagination that there are more wildfires today than in the past. In fact, according to a recent report from the Union of Concerned Scientists, we are seeing wildfires 4 times as often in the Western United States that are lasting 5 times as long and consuming 6 times the land area as compared to two decades ago. Today, the federal government is spending well in excess of a billion dollars annually on wildfire prevention and firefighting. In fact, over half of the total budget of the U.S. Forest Service is at present devoted to this cause.
Many of us living outside of the wildfire danger areas (and yes, that percentage of the nation is decreasing due to urban sprawl in much of the country encroaching on formerly uninhabited lands), would be surprised to learn that some of the many brave firefighters are, in fact, prisoners. In California and other western states, programs are in place to allow inmates to be trained to work in not just fire prevention work, but actual live firefighting. While there are no comprehensive statistics on the number of inmate firefighters across all states, the number is indeed surprisingly large. In fact, according to a 2015 article on the California Department of Corrections and Rehabilitation Conservation Camps, at any time, prison labor – making $2 an hour and gaining a 2-day reduction on their sentence for everyday spent in the program – comprises approximately a third of all of the state's front-line defense against wildfires. The California program is quite large, with over four thousand inmates manning 44 of these camps across the Golden State.
Now such programs have had their issues. In fact, two California inmates have died while fighting fires just this season. One prisoner died in May when a 120 foot tall tree fell on him while fighting a fire near Eureka, California, while a second inmate succumbed to injuries sustained in a chainsaw accident while battling a brush fire earlier this month near San Diego.  when a in becoming the second California Department of Corrections inmate to in consecutive years – and the fifth. There have also been a smattering of escapes and other incidents involving inmate firefighters. In fact, just last year, one former inmate firefighter in the California program – who fought fires while in prison to reduce his sentence for drug and weapons convictions – was actually arrested for 17 counts of arson in connection with a 4,000 acre fire in the Mendocino National Forest.
Yet, for the most part, the inmate system works well for the states as a way of promoting job training, rehabilitation, and yes, providing a cost-effective way of providing a vital public service. And with seasonality and fluctuating demand, this does make the trained prison pool of firefighters an especially viable way to address the problem). When you combine the fact that there is a demonstrated nationwide shortage of volunteer firefighters (and an aging of the ones presently on the job), the need is great for such programs. That is why many states in areas not formerly thought to be prone to wildfire issues (aka, not in the West) are looking into establishing such programs and expanding their current ones.
The Arizona Post-Release Program
For a number of years, Arizona has been offering members of its prison population the chance to become members of an inmate fire crew. As in other states, the pay is low ($1.50 a day) and yes, the risks are great. However, these inmates get extensive fire training and the opportunity to earn firefighter certifications offered by the Forest Service. At present, the Arizona Department of Corrections operates a dozen such inmate fire crews across the state. Some inmates, like T.J. O'Neill in the video below, obviously get great satisfaction and value from participating in the program. However, a knock on the program is that heretofore, some inmates, like those who spoke with anthropologist Lindsey Feldman as she worked alongside them for over a year for her article on the prison firefighting program, saw their role on the fire crew as merely being "cheap labor" with no clear path to a career in firefighting."
The new program is definitely a special one to Governor Doug Ducey. He spearheaded the effort to create a new, post-release fire crew to offer opportunities for inmates who had been part of the prisoner-staffed fire crews both a job – and a chance to continue to serving the state – after their release. Writing recently on the new program in an op-ed for the Arizona Republic, Governor Ducey recounted his interactions with members of the inmate fire crews in travels to fire-impacted areas of the state. He said that over and over, he heard that the program was a "life-changing experience." In fact, one inmate told the governor quite simply that before being involved in the firefighting program: 'I felt like a zero. Now I feel like a hero." And so now Gov. Ducey recently wrote that the new post-release fire crew program: "is a way of letting these individuals pay back their communities and, by giving them a chance to be productive members of society, increasing the likelihood that they won't return to prison after being released…(by) giving Arizonans a real second chance to turn their lives around in a meaningful and productive way. The governor punctuated his praise for the legislature helping to institute the new program by stating that this effort is – wait for it – a "win-win" for everyone – for both inmates and taxpayers.
Analysis
So, in the end, this new program in Arizona – led by a Republican governor with the support of the Republican legislature – is one of the best examples of innovation one can find anywhere in government today. It builds on the framework of an existing, successful program for current inmates, providing job opportunities for ex-cons who may otherwise find it tremendously challenging to find employment – of any kind. Furthermore, for the taxpayers of Arizona, there is great return on investment, as these firefighters are highly, highly likely to stay in these jobs in Arizona (one can imagine a firefighter "taking one's talents" to California, Utah, or another state, but by and large, a firefighter trained to fight wildfires in-state will stay in-state). Thus, the job training dollars will produce taxpayers and – hopefully, self-sufficient, non-recidivist productive members of Arizona society. And the new program helps build even more incentives for those currently being accommodated in the Arizona Department of Corrections to look into and want to join the inmate firefighting program, helping to assure that there will be personnel – whether inmate or excon – in the pipeline for fighting the state's growing wildfire concerns.
And in the end, we need these brave – if not perfect – men and women to want to do this dirty and dangerous job. After all, many of us – OK, most of us – who work safely in cubicles, in cars, and in coffee shops these days simply do not have the desire or the bravery that it takes to fight real fires, rather than virtual ones. And yes, we desperately need trained firefighters on the front lines to fight the increasing number and severity of wildfires across the United States. Hopefully, this Arizona program will be a model for other states to follow as we face increasing threats – and costs – from wildfire emergencies in the coming years.